An observational cohort study just published on the peer-reviewed journal Cancer concluded that the costs of breast cancer chemotherapy vary widely in the United States, even among treatment regimens with similar efficacy, and that patients bear a substantial out-of-pocket burden: «We found a wide variation in costs between these regimens, which could result in unnecessary costs to both patients and the health care system» explains lead author Sharon Giordano, of the MD Anderson Cancer Center in Houston, Texas. «We also found that many patients had high out of pocket costs for their care».
Giordano and colleagues assessed information on 14.643 women who were diagnosed with breast cancer between 2008 and 2012 and who received chemotherapy in the United States within three months of diagnosis, discovering that the median insurance payments for patients who did not receive trastuzumab were 82.260 US dollars (with a median out-of-pocket payment of 2.724 dollars, and 10 percent of patients who paid more than 7.041 dollars), and for those who received trastuzumab were 160.590 US dollars, with a median out-of-pocket payment of 3.381 dollars with 10 percent of them who paid at least 8.384 dollars. In addition, patients on high deductible health plans faced a median out-of-pocket cost of 5.158 dollars, which grew over 11.344 dollars for 10 percent of them.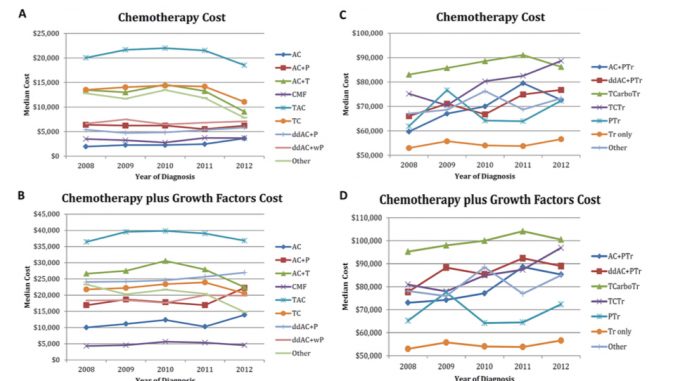 «This study adds to the growing literature on the costs of cancer care to patients» the authors write. «Cancer survivors are also more likely to file for bankruptcy, and those who do so have worse cancer outcomes. Specifically, breast cancer survivors who filed for bankruptcy had a 50% increased risk of death. In a survey of insured patients with cancer who contacted a national copayment assistance foundation, 46% of patients reported cutting back spending on food and clothing because of the cost of cancer care, and 42% conveyed that the cost of cancer care was a significant or catastrophic financial burden».