Global cancer programmes and projects must pay greater attention to national priorities and structures when they offer support to developing countries, says the doctor responsible for efforts to reduce women's cancer in Zambia.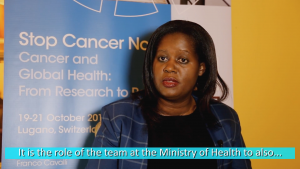 Sharon Kapambwe who helped to start the cervical cancer prevention programme in Zambia and now has overall responsibility for cancer prevention, said that outside support is welcome – but it must link to initiatives being pursued in the countries.
Global partners often hold talks at ministerial level without meeting professionals working on country cancer strategies, she says, and as a result their projects are not sustainable.
"Most global leaders and most organisations coming into a country simply have a one off meeting with a Minister of Finance or The Minister of Health. I think it is about time that when you are having these discussions as global leaders at national level that the team that works around these political leaders is equally informed.
"The Minister of Health and the Minister of Finance are the key political leaders in the ministry who are giving the mission and the agenda. But it is also important [to meet] the people who work with them…. The people on the ground will know who actually moves these decisions and who the minister talk to when they need to make a decision. Those are the people who are usually missing in the picture. We talk to the top, but the bottom has no idea what we discussed."
International programmes also need to examine the fellowships they offer to ensure that they are "sustainable programmes with local people involved", says Sharon Kapambwe. "What you want to have in the long term is oncologists, that are trained, that are Zambian bred, and that are able to sustain this programme."
Sharon Kapambwe, national coordinator for cancer prevention working in the Ministry of Health in Zambia, was interviewed at the World Oncology Forum meeting in Lugano, Switzerland.