The mCODE project will provide a common platform and language to collect all the data on cancer patients. The initial set of standards has been released at ASCO 2019 in Chiacgo
Data collection, retrival and use both by patients and researchers are at the core of the debate at ASCO 2019, the largest cancer congress in the world with more than 40.000 participants currently taking place in Chicago.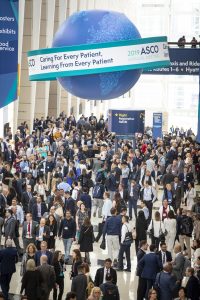 In order to improve cancer data sharing and the quality of patient care, the American Society of Clinical Oncology (through its non profit subsidiary CancerLinQ), MITRE Corporation, and the Alliance for Clinical Trials in Oncology Foundation (Alliance Foundation) launched today at ASCO the mCODE –  Minimal Common Oncology Data Elements – initiative.
"We worked to capture what is essential for reporting the characteristics, treatments, and outcomes of every cancer patient and what should be contained in each patient's electronic health record (HER)" dr. Richard Schilsky, Chief Medical Officer of ASCO, told Cancerworld. The initial set of common cancer data standards and specifications was just released in Chicago and published online on mCODEinitiative.org.
"More than 15 million of individuals with cancer have their data in some sort of electronic health record, but they are prioritized in different ways and the different systems collect data in many formats, making them incompatible with one another" Schilsky continued. "This affects the opportunities for the patients, because their doctors are unable to compare the cases and their outcomes. It also affects the opportunity for research, especially in the drug domain. We could collect many information on side effects after the official trial ended, if we were able to dig into a large number of electronic health records".
The mCODE data elements are grouped into six main areas to describe the patient's cancer journey:
"patient" (demographic and other characteristics)
"disease" (specific details regarding the cancer)
"genomics" (molecular characteristics)
"labs/vitals" (relevant laboratory tests and vital signs)
"treatment" (surgery, radiation, and drug and other treatments)
"outcomes" (e.g., current cancer status and survival).
mCODE will provide both a common data language and an open source, nonproprietary data for interconnectivity across EHR systems. The standard elements also support EHRs in capturing and processing increasingly complex genomic data generated by advances in molecular diagnostics and treatment.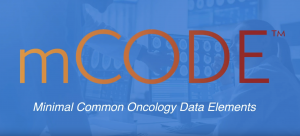 At the moment, the mCODE project is limited to the US. The European privacy legislation makes it harder to share patients' data, and sets ethical limits to the use of data by companies, especially drug developers. The European Commission is currently funding research projects that aim to harmonize the health records all over Europe both for the benefit of the patients and for research. The medical informatic platform developed by the Human Brain Project, for instance, is going to collect and harmonize the health records of neurological patients' all over Europe. A group of experts in ethics has been working to develop a system compatible with the EU rules on privacy and sensible data, but no project is currently focusing on oncology.