For patients with localized prostate cancer (PCa), active surveillance might not be easy to deal with, with possible repercussions on the quality of life: starting from this åassumption, the European School of Oncology convened a group of expert that has just published a list of recommendations aimed both at researchers and at clinicians.
«Active surveillance reduces the burden of treatment-related side effects, but men may live with greater uncertainty because of the possibility of future reclassification of their cancer» write the 15 members of the multidisciplinary task force in an article appearing on European Urology, with first author Silvia Villa of the Fondazione IRCCS Istituto Nazionale dei Tumori in Milan. «There is still concern about the possible impact of living with untreated PCa on health-related quality of life (HRQoL)».
The ESO Task Force examined a long list of research questions and measures related to AS and HRQoL, and then used a structured questionnaire to identify the most relevant ones in terms of usefulness/importance: items that 80% of ESO TF members rated as useful/important were retained. Items with a 50–80% rating were discussed to reach final agreement.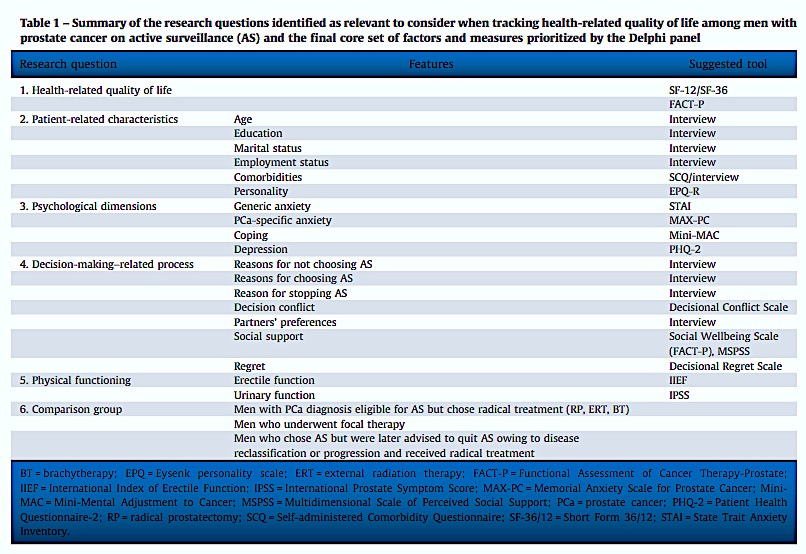 At the end of the work, six main research questions were identified, related to individual characteristics, psychological dimensions; decision-making–related issues, and physical functioning (see table): «HRQoL measures have to be sensitive to the specific needs of men on AS. The definition of HRQoL outcomes will enhance a broader understanding of the HRQoL of men on AS and sustain patient-centered medicine» the authors conclude.