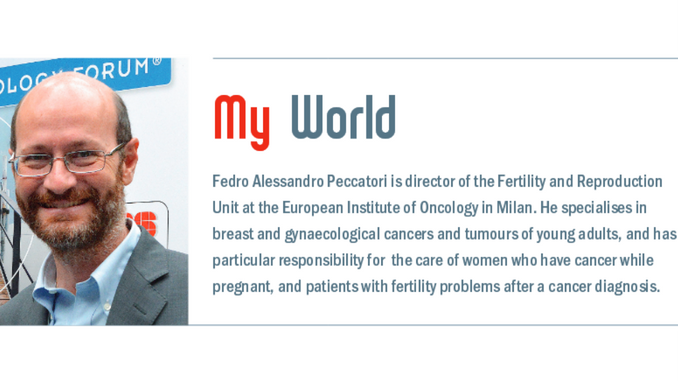 Fedro Alessandro Peccatori is director of the Fertility and Reproduction Unit at the European Institute of Oncology in Milan. He specialises in breast and gynaecological cancers and tumours of young adults, and has particular responsibility for the care of women who have cancer while pregnant, and patients with fertility problems after a cancer diagnosis.
Why I chose to work in cancer
At medical school I was fascinated by the Pathologic Basis of Disease (Robbins' 'bible' on morbid anatomy) and cancer looked like the perfect one – beauty may be found also in evil… I started by specialising in gynaecology because I felt that female cancer patients are especially in need of care as well as cure.
What I love most about my job
When I wake at 6.30 am and ride my bike to work, I really look forward to getting into action. Speaking with colleagues from different scientific backgrounds, trying to resolve difficult situations and the smiles of patients are what makes this profession worthwhile.
The hardest thing about my job
When I know that I cannot do something significant for my patients, that I will have to fight with bureaucracy for most of the day, and that I will not see my family until 7.30 pm. There is nothing heroic about being a doctor, but sometimes it is quite hard.
What I've learned about myself
I have found that I can be quite stubborn when the stakes are high. Modern medicine requires commitment, and I have learned not to give up – with colleagues or diseases.
I'll never forget…
At the start of my internship in gynaecology, when I was asked to care for a patient dying from a resistant germ cell tumour of the ovary. I had lectured the same day about the astonishing results of cisplatin in improving cure rates in this disease, and had ended with the triumphal phrase: "the paradigm of success". How wrong I was! Since then, I have learned that science is nothing without care.
A high point in my career
When I gave a presentation in 1995 at the International Gynecologic Cancer Society Meeting. Afterwards, Bob Young, whom I looked to as a demi-god, said: "Good job, son." Unforgettable!
I wish I were better at…
Reconciling work and family. I often feel guilty about my wife, my daughter and my four sons. I'm trying to find the solution, but there's a long way to go.
What I value most in a colleague
Boldness and creativity when talking about science. Empathy and time when talking about patients. Intellectual honesty when talking about me.
The most significant advance in my specialty in recent years
In breast cancer, the use of anti-HER2 therapies. In gynaecologic oncology, the better understanding of the relationship between BRCA1 mutation and ovarian cancer. For young female patients, effective fertility preservation.
My advice to someone entering my specialty today would be…
Be compassionate with your patients and passionate for their rights. Don't be afraid to share your emotions with them. Be knowledgeable and keep pace with the fast-changing world of cancer science. Be honest with colleagues and prioritise collaboration over competition.
What I wish I'd learned at medical school
That open mindedness and curiosity are talents that must be carefully cultivated throughout professional life. And that medicine is not just diagnosis and cure, but entails pharmaco-economics and resource administration, with the goal of giving every human being equal access to prevention and treatment.