"Immune checkpoint inhibitor (ICI) treatments benefit some patients with metastatic cancers, but predictive biomarkers are needed": starting from this premise, a group of researchers of the Memorial Sloan Kettering Cancer Center in New York led by Robert M. Samstein, Chung-Han Lee, Alexander N. Shoushtari and Matthew Hellmann, have examined in depth the association between the number of mutations in tumor cells – the so-called tumor mutational burden (TMB) – and clinical response to ICI in different tumors.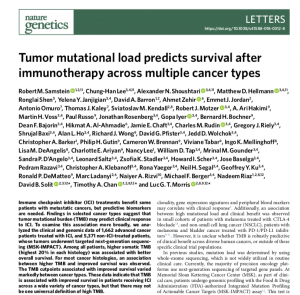 In a letter just published by Nature Genetics, they "analyzed the clinical and genomic data of 1,662 advanced cancer patients treated with ICI, and 5,371 non-ICI-treated patients, whose tumors underwent targeted next-generation sequencing (MSK-IMPACT). Among all patients" they write "higher somatic TMB (highest 20% in each histology) was associated with better overall survival".
The association between higher tumor mutational burden and improved survival was observed for most types of cancers studied, with a significant variation among cancer types in the amount of mutations that make a difference, so "that there may not be one universal definition of high TMB".
For instance, a breast cancer would likely respond to immunotherapy with as few as six mutated genes per million DNA bases while other cancers the number of relevant mutations is much higher, with a colorectal cancer becoming responsive only with 52 or more mutations.
"Given the potential toxicities of immunotherapy and the highly variable response to ICI, as well as the significant economic cost of these agents, there is an urgent need for biomarkers that can pre- dict immunotherapy response" the authors conclude. "Future studies that integrate other genomic or pathologic biomarkers may allow for the development of an even more optimized predictive test to inform clinical decisions on the use of ICI".