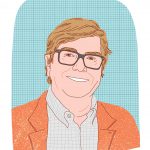 Not so long ago, research protocols excluded older cancer patients based on chronologic age. Now they exclude patients with comorbidities, and as most older patients suffer additional ailments, they do not fit the protocols. But these people are looking for our help.
Reconciling real-world medicine with artificial barriers that might limit treatment of any patient without good reason is one of the tasks of geriatric oncology. We have to develop strategies that enable us to evaluate the risks and benefits of curative treatments in all our patients, not only in the 'Olympic champions' who are fit enough to enter a standard research protocol.
Progress is slow but it will certainly accelerate as awareness grows of the huge unmet need. We have to find answers based on adequate evidence, as more and more older patients are seen in hospitals and doctors' offices, not only in the aging societies of Europe but all over the world. The time-bomb of the aging population is ticking, and governments need guidance to allocate the necessary resources for this growing segment of the population. If the cancer community does not provide that guidance, older patients could end up without access to key cancer services, just as happened with kidney dialysis services two decades ago.
We need to learn from our colleagues in other areas of medicine, and especially from the real experts – the geriatricians. But in many countries they are few and far between, and in heavy demand, so true collaboration remains a challenge. The International Society of Geriatric Oncology (SIOG), a member of the European Cancer Organisation (ECCO), plays an important role here by providing guidance, developed by multidisciplinary taskforces, to the nurses and physicians who treat the growing number of cancer patients with complex health issues.
But the taskforces themselves often lack top level evidence, so their recommendations, which are published in major journals including SIOG's Journal of Geriatric Oncology, need to be periodically revisited as new evidence emerges. With the help of the European School of Oncology, SIOG now also organises advanced courses, attended by physicians from all over the world, to train geriatricians in basic aspects of oncology, and oncologists in the fundamentals of geriatrics.
These courses will hopefully lead to many innovative clinical research projects, to be conducted in collaboration with national groups and others like the European Organisation for Research and Treatment of Cancer. The findings should help answer the many unresolved questions about how to prevent and treat cancer in older people, and how best to care for patients and support their families and friends. They will also demonstrate that age, frailty and comorbidities do matter, and that only research that includes this growing group of patients can provide the evidence we need to provide truly personalised care, respecting the patient's goals, and recognising the risks and benefits of the suggested treatment.