"The first time I felt a little awkward because I had never seen a breast with mastectomy and it was not an easy case. This woman had undergone many surgeries in her effort to make her breast look normal. We draw branches of flowers on it. One of them covered the missing nipple. The trust that we showed to each other, the result and the joy after the process, made that first time, incomparable", says the Greek tattoo artist Rea Pediaditaki who specializes in mastectomy tattoos to cover scarring with intricate designs or, even, recreating a nipple shape.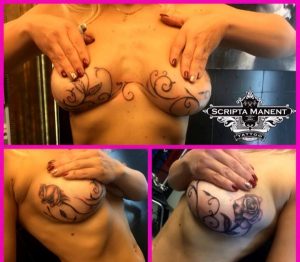 Her art mission is to make women with mastectomy feel good when they are looking at themselves naked. Her satisfaction is to see the smile on their faces looking at the mirror at the end of the tattooing since it is a very sensitive process. In her portfolio there are millions of designs, and some on the female breasts. Rea undertakes to make a tattoo on the breast after mastectomy and rehabilitation. And most of the times this is not just a tattoo. This is an inspired work of art.
The breast tattoo choices vary considerably. Many women simply want nipples tattooed, while other pick a work of art or choose the tattoo they always wanted as a teenager. Some of them want to keep the scars on their breast while others don't. "We talk a lot about it and I always support their decisions. I feel like they do and I give them enough time to decide what they really want to do with their body". The last five years about 30 women with mastectomy have visited Rea's "Scripta manent tattoo studio" in Athens. Almost 50% of them have chosen tattoo patterns with flowers instead of simple false nipples. In case they want nipple restoration, it's helpful for Rea, if the other breast exists, to follow the colors and the anatomy of the existing nipple, trying to bring it closer to size, shape and color as possible. "But if we decide not to make a nipple, or because breast's morphology does not allow it, or because she prefers a pattern instead of a false nipple, we are discussing it completely differently and leave our imagination to go wherever it wants on the skin canvas", Rea explains.
Once the condition after the mastectomy has stabilized and after the plastic surgeon has intervened a woman is able to discuss with to Rea about tattooing. "Of course, we are talking about a body that has been burdened with surgery, radiation, chemotherapy and it's a shame to put it on for some extra intervention. The best period is after the third year of mastectomy, but if the doctor gives the permission earlier we go for it", Rea explains.
This method of rehabilitation has become more and more popular over the last five years, since it helps women with breast cancer to love their body again (almost) as before – and I say almost, because most of them feel even better than before. Even doctors suggest it. This is one of the cases when medicine and tattoo do not fight each other, but they can work together in order to boost women's with breast cancer psychology.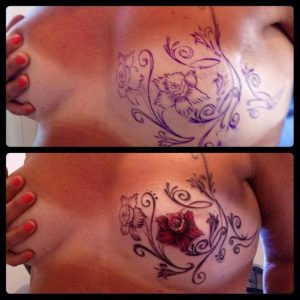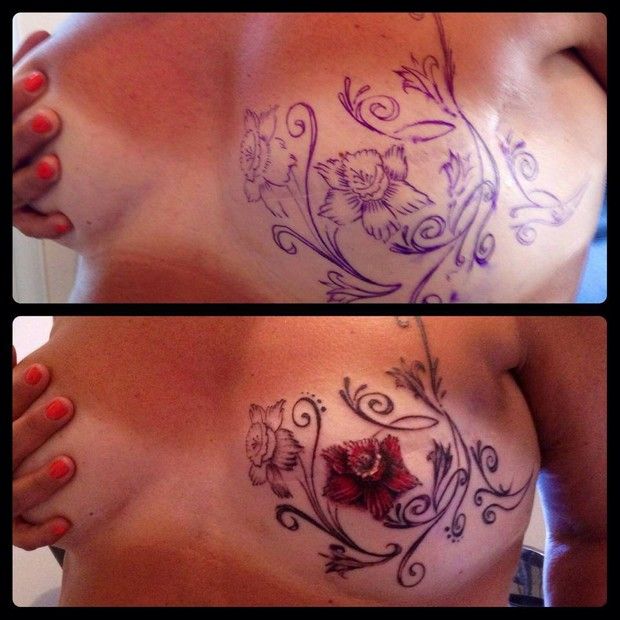 Rea helps women with breast cancer to gain back their self-confidence, their sexuality, their relationship with their bodies through a very nice and safe process. "Most of the women during the tattoo process share with me their story. A very difficult personal story. I remember Aggeliki a young woman who was diagnosed with breast cancer after she has given birth to her child". Rea feels honored to be included in their personal struggle and she doesn't feel sorry for them. "You can't feel sorry for someone having so much power. You always get the positive message from these women because they never give up. The relationship you develop with them instantly becomes deeper ", she adds.
Rea is a master with the needle and she has definitely made a huge impact in the women with breast cancer lives. She encourages them to dare a breast tattoo because it may be seen as the final stage of their treatment, as the completion of their cancer journey. These women are strong enough and they have nothing to be afraid of. The tattoo will not hide the cancer that has passed away but it will definitely make them feel nice when they look themselves at the mirror naked. And Rea can make them feel like a piece of Art with her hands.