More convenient and less risky for patients than proper, traditional ones, liquid biopsies are being rapidly adopted; they can be performed on a serial basis and, in theory, give more complete information. However, doubts were raised on their impact and utility in clinical practice: now a review article published by scholars from the American Society of Clinical Oncology (ASCO) and the College of American Pathologists (CAP) concluded that liquid biopsies – called ctDNA for "circulating tumor DNA" – are not fit neither for the diagnosis nor treatment nor prevention of solid tumors.
The paper Jason D. Merker, Co-Director of the Stanford Medicine Clinical Genomics Service, and colleagues published in the Journal of Clinical Oncology reviewed 77 articles: «Fundamentally, there are two paradigms to demonstrate clinical utility and the adoption of ctDNA as a clinically useful test" Merker says. The most consistent are prospective clinical trials to analyze ctDNA as a stand-alone diagnostic test, but "no such trial has been reported to date", he writes. A second strategy exists, and it is "to assess whether ctDNA provides the same information as tissue genomic evaluation". If that is true, ctDNA assays would easily drive patient treatment decisions.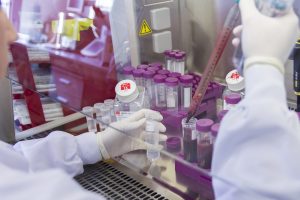 But this is not the case: only one PCR-based ctDNA test is approved by both the FDA and EMA, and it is the COBAS assay for the detection of EGFR genetic variants in non–small cell lung cancer (NSCLC). In Europe only, a second test is approved for colorectal cancer (CRC), which could be detectable through liquid biopsy if it is caused by the KRAS mutation. Nevertheless, Merker and colleagues still suggest to rely on tissue sample more than on ctDNA testing. Moreover, the paper shows that the test might drop while a tumor is still responding to treatment.
Liquid biopsies could be also useful for measuring minimal residual disease: unfortunately, the false negative and the false positive rates have not been established sufficiently for any assay.
Lastly, the authors consider the screening of asymptomatic individuals, concluding that it would imply a higher risk of over diagnosis.