In women hit by breast cancer, the size and type of social relationships influence the rates of recurrence and mortality, according to a research published on Cancer, a peer-reviewed journal of the American Cancer Society. In general terms, the analysis led by Candyce Kroenke and colleagues of the Kaiser Permanente Division of Research in Oakland, California, confirmed that women with large social networks experience better outcomes than those more socially isolated, but it also showed that some types of social interactions are not beneficial, and some only appear to benefit patients in certain groups: «It is well established that larger social networks predict lower overall mortality in healthy populations and in breast cancer patients, but associations with breast cancer–specific outcomes like recurrence and breast cancer mortality have been mixed» explains Dr. Kroenke. «These findings, from a large pooled cohort of nearly 10,000 women with breast cancer, confirm the generally beneficial influence of women's social ties on breast cancer recurrence and mortality; however, they also point to complexity, that not all social ties are beneficial, and not in all women».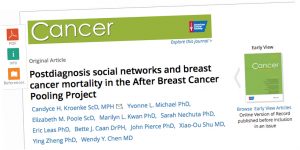 The researchers followed 9.267 women with breast cancer to see how their social activities in the two years following their initial diagnosis were associated to their survival. During the follow-up (with a median of 10,6 years), 1.448 cancer recurrences and 1.521 deaths (990 of which from breast cancer) were observed. Compared with socially integrated women, socially isolated women had a 40 percent higher risk of recurrence, a 60 percent higher risk of dying from breast cancer, and a 70 percent higher risk of dying from any cause. These associations were stronger in those with stage I/II cancer. Specific associations differed by age, race/ethnicity, and country of origin. For example, ties to relatives and friends predicted lower breast cancer–specific mortality in non-White women, whereas having a spouse predicted lower breast cancer-specific mortality in older White women. Community ties predicted better outcomes in older Whites and Asians.
«In summary, smaller social networks were related to higher risks of recurrence and mortality in breast cancer survivors and particularly in women with earlier stage cancer» the authors conclude. «Health care providers need to assess information on social networks at the time of diagnosis and during follow-up because this may be a potential marker of prognosis».